First Time Laser Hair Removal at Spark Laser Center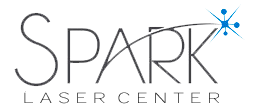 212.245.0940
Over the past two years I was introduced to laser hair removal from Spark Laser Center and its been such a huge revelation for me! Of course I had heard of it before them, but never looked into it much, being pretty set in my ways of waxing and shaving, depending on the area of my body. But because of a relative, I was introduced to Spark and just so happened to give it a try and absolutely fell in love. Interestingly enough, after that first time, I visited other hair removal spas and wasn't nearly as happy with the service, Spark Laser Center has literally changed my life at this point and this was my experience.
I've always had some issues with excess hair, and it runs in my family. Both my mother and grandmother were particularly hairy women, and while I didn't have it as bad as them, during the winter months, without a wax would have my legs looking terrible and full of hair! I started shaving my legs at a young age, around the 6th grade, and I really think it made things a lot worse for me since it became almost a weekly or biweekly routine not too long after that. I eventually moved over to waxing my legs at home, after seeing some videos online and taking recommendations from friends. So this was pretty much my hair removal routine for over ten years. It wasn't until a close cousin of mine was visiting New York City for the summer, and was looking for a medical spa to visit for laser hair removal and other skincare treatments. It was pure luck, but she found Spark Laser Center online and saw that they had great reviews. Being new to the city, I accompanied her to her appointment, and was really impressed by the practice. The walls were beautiful, everything looked pristine and clean, fancy machines and incredibly friendly staff and workers. The ownership was new and went above and beyond with the service for my cousin, and even though I was just waiting for her, I felt well taken care of too! After seeing how quick she got her legs and bikini wax done, and how good it looked immediately after I couldn't help but be surprised. If I had done the same wax treatment at home, I would have needed half a bottle of wine, a warm bath and a long nap afterwards, and would probably be wincing in pain for hours! But looking at her you couldn't even tell!
I had made a lot of conversation with the front desk worker at Spark and decided to book an appointment for myself before we left. They were so thorough, asked a lot of questions and gave me a little checklist of do's and dont's before my appointment, which I thought was very professional and helped me out not knowing much about how it worked. That day I asked my cousin a million questions and did a ton of research online and read nothing but good things about Spark. The day of my appointment couldn't have been easier either, it was quick and easy. Since it was my first time, I decided to just start with my legs and see how they would look. My cousin didn't have nearly the hair growth I had, so I thought my results would be a lot worse than hers. But to be honest, after only one session I was very pleased! And the best part was that I barely felt any pain or discomfort the whole time. And aside from my legs being red and some light swelling after there was nothing wrong with them at all. One thing I appreciated a lot about Spark was how honest the staff was. The person who did my laser procedure said I had a lot of thick hair coverage, and recommended I get a package of sessions rather than just one. Which they were happy to upgrade me to at the front desk! I can't explain how good my legs felt, the only thing I really felt was the initial heat of the laser, and even then the device had a cooling effect after so it really wasn't much. And even though it was a busy day for them, the staff treated me like I was the only person there. They answered every one of my questions, offered tons of tips, and even made recommendations for some skincare issues I had been having. After this experience I actually found a coupon online for a local laser hair removal spa closer to my home, and decided to give it a try as well. This is when I realized that not all laser hair removal is the same! From the bad service, to poor quality lasers, this experience really solidified Spark Laser Center for me. I am now a regular client, and have had laser hair removal regularly for with them for the past two years. Not only that, I've also had two different chemical peels done and both were excellent. I highly recommend you check out Spark Laser Center if you're in NYC. One thing to make sure of however, laser hair removal will make your skin really sensitive to sunlight so make sure to avoid this as much as possible before and after!
Review of Spark Laser Center